Successful Actions in 2013
Have a look and get inspired for your activities for safer streets and more attractive cities. And don´t hesitate to tell us about your own ideas and send in your photos.
Bicycle tours
An Italian group dedicated their holidays to support the 30 km/h campaign. They cycled the well-known "Elberadweg" from Hamburg to Dresden wearing their 30-km/h-T-Shirts and investigating German 30-km/h zones, including a photographic documentation. See more photos here
| | |
| --- | --- |
| | Photos: Stefano Gerosa / FIAB |
Action cycling tour
Another tour supporting the ECI, the "Tour de Natur" 2013, from Stuttgart to Marburg (Germany). Everybody was invited to join the group. People could register for parts or all of the given route, including accomodation and catering. And of course actions, events, and meetings every day. The participants visited local activists and quite a lot discussions were about speed limits and our ECI this year. See more

Photo: Dieter Hammerschmied/Usinger AnzeigerDiscussions with
local politicians and meetings
with local media were important parts of this tour

Photos:
Christian Loos
Street party
"fairkehr", a NGO based in Salzburg/Austria, organised a street party, which turned out to be absolutely exciting. This is how they did it: Four streets in the old town were closed, and the "fairkehr" activists rolled out lawn turf on the lanes. Deckchairs, tables, info stalls, kiosks, an exhibition about traffic calming, were added. Plus a stage and music groups….. A fantastic weekend! See more
Parking Day
PARK(ing) Day is an annual worldwide event where artists, designers and citizens transform metered parking spots into temporary public parks. This day was celebrated for the first time in 2005, and since then on the 3rd Friday in September.  Everybody can contribute to the day.  Choose your parking spot and make sure you may occupy it. In some cities, you must contact the local authorities for a permission. Mark the parking space you want to use on the website http://parkingday.org.
On the Parking Day occupy your metered space and create the exhibition, café, park etc you were dreaming of. And this is what activists on Mallorca/Spain did: They pleayed their chess game and promoted a slower, relaxed and enjoyable life and of course our ECI. A tourist passing by took a picture and posted it after he returned home. And so, we accidently discovered activists from our network. A nice story!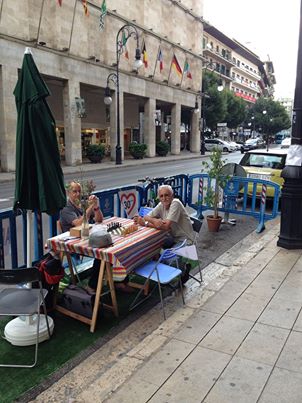 Boost your signature gathering – with a series of easily made signs
A great cycling rally was organised in Berlin in June. Ten thousands of cyclists met to celebrate the environment day. How can you make your info stall attract attention in such an environment? The "Verkehrsclub Deutschland" (VCD, German transport association) produced some series of posters: Number one showed: "Already signed for 30 km/h?" , number two: "Not yet?" Number three: "Hurry up then, sign our ECI now!" Activists held them up as soon as the rally turned up. Literally every participant took notice of the posters. Many applauded, all laughed, some made jokes. And the VCD activists got loads of signatures, despite the rain pouring down. See more
Oversized newspapers
The photos below were taken on the international conference "WALK 21". With hundreds of participants, lots of discussions and chats and a very attractive programme. It was a real challenge to get any attention at all. But the campaigners succeeded. The instrument to draw attention to the stand were: two hugely oversized newspapers.
This is how they are made: Take 2 paper sheets (size A0) and stick them together with a textile tape. Take texts, pictures, and infographics from this website, print them out and paste them on the paper sheets. Try to design it like a traditional newspaper, with a name like "Express", "Newsweek 30 km/h", "The Times for 30" on it, headlines, and several columns, at least on the outer sides.
Show the impact force of a car with a dummy
Take a car and a bike and a dummy. Take them to your information stand and arrange them to demonstrate how vulnerable road user like cyclists and pedestrians are in danger if it comes to an encounter with a car. The photo was taken at an action in Bremen / Germany.
A hawker´s tray for the signature gathering
Take a stable board and drill a hole through each corner of one longitudinal side. Pull long ribbons through the holes. You can now use the ribbons to fix the tray in front of your belly. This tray has proven to be successful on a very rainy day when people were seeking for shelter and did not bother to visit our information stand. So, we visited them!

Competition for signature gatherers
20sPlentyforUs has been organising conferences and campaigner trainings. ECI signature gatherers could win a free place by giving in the most paper petition signatures to the organisers by end of April 2013. They could print out the forms or get 30 sheets with reply post envelope (180 signature spaces if they sent their address
Online action "1000 places for 30 km/h
German law does not allow cities to decide on their own to implement 30 km/h zones. Many cities are put off by long bureaucratic procedures required, and so there is no public discussion about to what extent 30 k/h is really needed. The online action "1000 places for 30 km/h" is rising awareness of the various wishes. Citizens are asked to send in their photos and areas where they want to have 30 km/h. 105 hot spots are already shown on the map. More information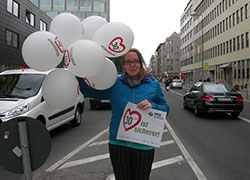 start of the action and first photo on the Internet map.
source: Verkehrsclub Deutschland
Video about 30 km/h as final school project
Lisa und Kathi are students in Austria. They decided to produce a video for our ECI campaign as their final school project. They researched main arguments, showed a scene about traffic noise and included two interviews, with a mayor and a medical scientist.
http://www.youtube.com/watch?v=s9ulizMnvkw
Cartoon – for adults only
A perfectly designed cartoon. It tells a story of "Capitan 30", who makes a car driver brake sharply and thus saves the life of a little boy. The mother is extremely grateful for this. "Typical Italian" says the author, Paolo Pinzuti from "Salvaiciclisti", with a view to the last picture.
http://www.bikeitalia.it/2013/07/08/scende-in-strada-capitan-trenta-il-supereroe-trash-della-mobilita-nuova/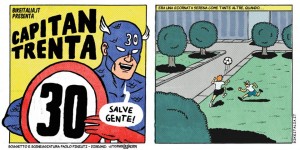 Nice places for our campaign stickers
Two car owners beautified their vehicles (one in Poznan/Poland, one in München/Germany), someone put a sticker on a bridge (Radon/Poland) and one sticker was discovered on a park bench in Berlin / Germany. They give good visibility to our campaign. Where are your favourite places for some stickers? (If you want to get some, please mail to info@30kmh.eu)

Photo: Kamila Sapikowska/
Poznańska Masa Krytyczna

Photo: Münchner Bündnis für Tempo 30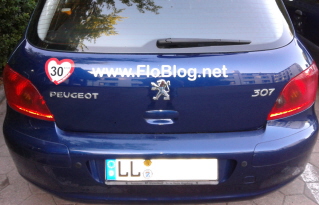 photo: Florian Lipp, Landsberg