Arco – First Italian town becomes a pioneer with total 30 km/h
on Oct 26, 2012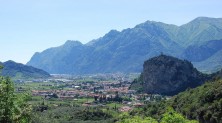 The email was very brief: "In Arco, we have already 30km/h, the first town in Italy".
Our investigations revealed information about a beautiful ancient town in Northern Italy, not far from the Lake Garda. Among alpinists, Arco is well known because of its formidable mountainous regions. It may now also become well known for its traffic calming activity. Arco is indeed the first Italian town with 30 km/h speed limit throughout the whole city.

On their website, the Arco administration has published detailed arguments for the benefits of their speed limit. One can clearly see that the process of implementing the speed limit focused on convincing the citizens rather than simply introduce the tool. That was a long and troublesome procedure, say those who participatef. The promotors were confronted with considerable concerns and prejudice but they succeeded in the end. Today, the experiment is regarded as a big success. Congratulations!
See the administration of Arco´s article
photo: Svíčková