Now announced: European Citizens´ Initiative "30km/h – making the streets liveable!"
on Sep 16, 2012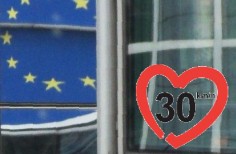 The "European Citizens´ Initiative" for a EU wide 30km/h urban speed limit has been announced. Activists from eight EU member states have put the proposal to the European Commission today. As "European Mobility Week" commences this call highlights the importance of safer, quieter urban and village roads and better air quality for all through speed limit reduction. Legal checks of this initiative must be completed within 2 months.
The vision is: a total 30 km/h speed limit in villages and towns unless another speed is set by their local authorities. Changing the speed limit to 30km/h is simple and efficient. Many 30km/h zones throughout Europe have proven to work at reducing casualties, noise, air pollution and CO2 emissions, and they improve traffic flow. Environmentally friendlier modes become more attractive, with further benefits from active lifestyles and reduced congestion.
"People can travel with less fear and greater ease." explains Rod King, member of the citizens´ committee and Founder of 20's Plenty for Us, the campaign for lower limits, "20mph improves people´s quality of life". In the UK walking and cycling levels increase wherever 20 mph (30 km/h) limits are introduced. This may also result in better conditions for the public transport – as demand increases – and more financial support for pedestrian and cycle traffic infrastructures.
Although the default speed limit would be set at 30km/h in urban areas, the Initiative's Committee say that Local Authorities should have the final decision to set other speed limits or measures that improve road safety and make a healthier environment. They are in the best position to understand where exceptions should be made.
Why this EU Initiative?
"It is the natural role of the EU to set minimum standards that are valued by all European citizens" explains Heike Aghte who is coordinating the Initiative. Since we have freedom of movement in the EU hundreds of thousands of people travel throughout Europe every day. It is therefore vitally importance that the main rules for a safe behaviour in our public spaces are clear for everyone, wherever they are. "Only the EU can achieve this broad conformity in a efficient manner."
Members of the citizens´ committee
The text of the ECI