Moments of shock
on Oct 1, 2013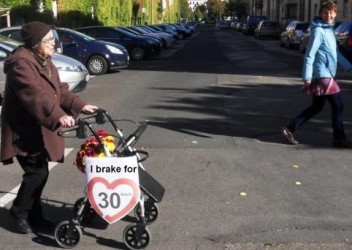 Driving teachers like this question: "Imagine you are driving at 30 km/h when  suddenly someone enters the road, at only 14 meter from your car. You brake immediately! At what speed do you arrive there? And at what speed do you arrive if you brake from 50 km/h?"
Some students are astonished about the answer:
– If you brake down from 30 km/h, your car stops at 13,3 meter and nothing happens.
– But if you brake from 50 km/h, you have not even started to brake. The person is overrun at full speed.
The reaction time of human beings lasts at least one second during which the car continues to roll more than 13 meter if you drive at 50 km/h and comes to a standstill after about 28 meter. The reaction time can last even longer, for example if one is tired, or simply because of the normal ageing process. Taking into consideration that the European society is ageing while older people stay healthy and like to go out and take part in social life, it is obvious that 30 km/h is a really important instrument to make cities and villages safer places to be.
Percentage of people at +65 in four different EU member countries
| | | | |
| --- | --- | --- | --- |
| Country | 2010 | 2020 | 2030 |
| Ireland | 11% | 13% | 16% |
| Poland | 14% | 18% | 23% |
| France | 17% | 20% | 23% |
| Germany | 21% | 22% | 29% |
source: destatis
Today: International Day of Older Persons
Maria Limbourg, an internationally known mobility scientist und our ambassador for 30 km/h, reminds us that "scientific research has proven that older persons perceive things very much like children and therefore are able to cope much better with speeds of 30 km/h than 50 km/h. They often can't manage to immediately assess risky situations. Their reactions are slower, and as pedestrians or cyclists, they cannot get out of trouble quickly". But unlike children "senior citizens move around everywhere and at all times of the day. Maybe they'd like to go out eating, then they're going out in the afternoon and in the evening as well, to the cinema, or the theatre. Elderly people are also car drivers of course. Policies must be adapted to them", with a 30 km/h speed limit as default!  See the interview with Maria Limbourg
Today is the International Day of Older Persons. A good day to sign our ECI "30 km/h – making streets liveable!" and also recommend it to your parents and grandparents and all older friends as well.
Support from municipalities
Many local authorities are on their way to better adapted speeds in their cities while the EU commission, who could make things much easier for the municipalities, is still hiding away.
We are excited about the growing support from municipalities. Examples from September are:
– Göttingen/Germany, where the mayor Ulrich publicly signed the ECI on 6th September;
– Gdansk / Poland, where 13 mayors and representatives from different local authorities signed a declaration of support for the ECI and a EU-wide harmonised 30 km/h standard on 12th September. Among them was the mayor of the major city of Gdansk;
– Brussels / Belgium, where the former "Bicycle mayor" from Copenhagen, Klaus Bondam, signed on 18th September.
A panel discussion in Brussels on that day was a really exciting experience. It took place as part of the exhibition "Sustainable2Wheels" in front of the European Parliament, with a representative from the European commission participating. Nearly all people on the panel mentioned our ECI and most of them highlighted its importance and that is was a good initiative to support. The representative from the commission was obviously deeply impressed.
So, it seems as if we are approaching our main goal: to set the agenda for the EU commission and make them think about 30 km/h as a European standard – even if we cannot succeed to get all signatures. This is an inspiring side effect and worth all our efforts with our campaign.